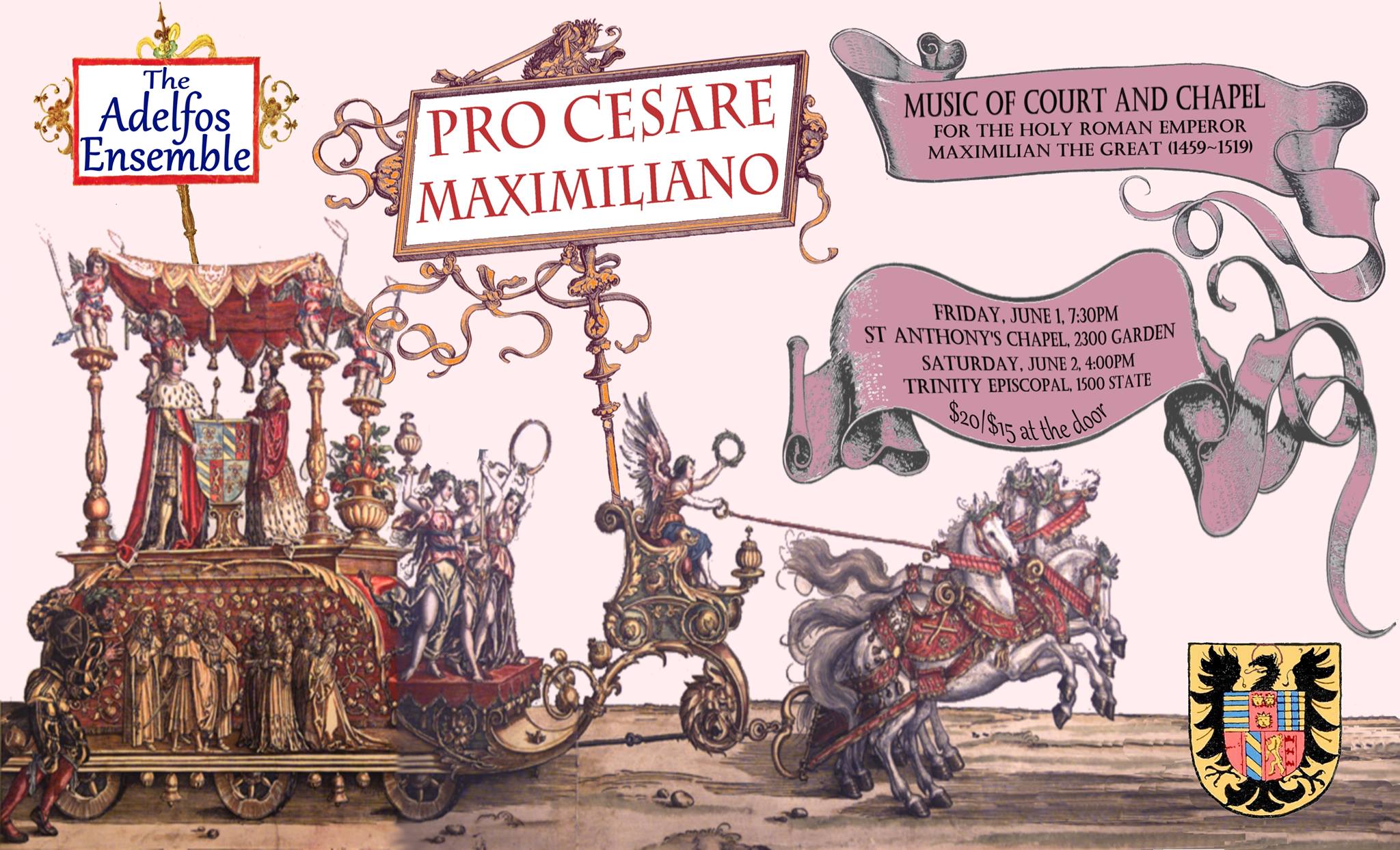 Pro Cesare Maximiliano
Court and Chapel Music from the Reign of the Holy Roman Emperor, Maximilian the Great
Friday, June 1 at 7:30pm – St. Anthony's Chapel, 2300 Garden St in Santa Barbara

Saturday, June 2 at 4:00pm – Trinity Episcopal, 1500 State St in Santa Barbara

Tuesday, June 5 at 11am – St. Mark's Episcopal Church in Berkeley, CA
Join the Adelfos Ensemble in concert for a rich feast of Renaissance music – from tender lovesongs and fun lovingCarnival tunes to monumental ceremonial motets, the "heavy metal" of the Renaissance!
$20 general admission, $15 students or senior citizens over 65.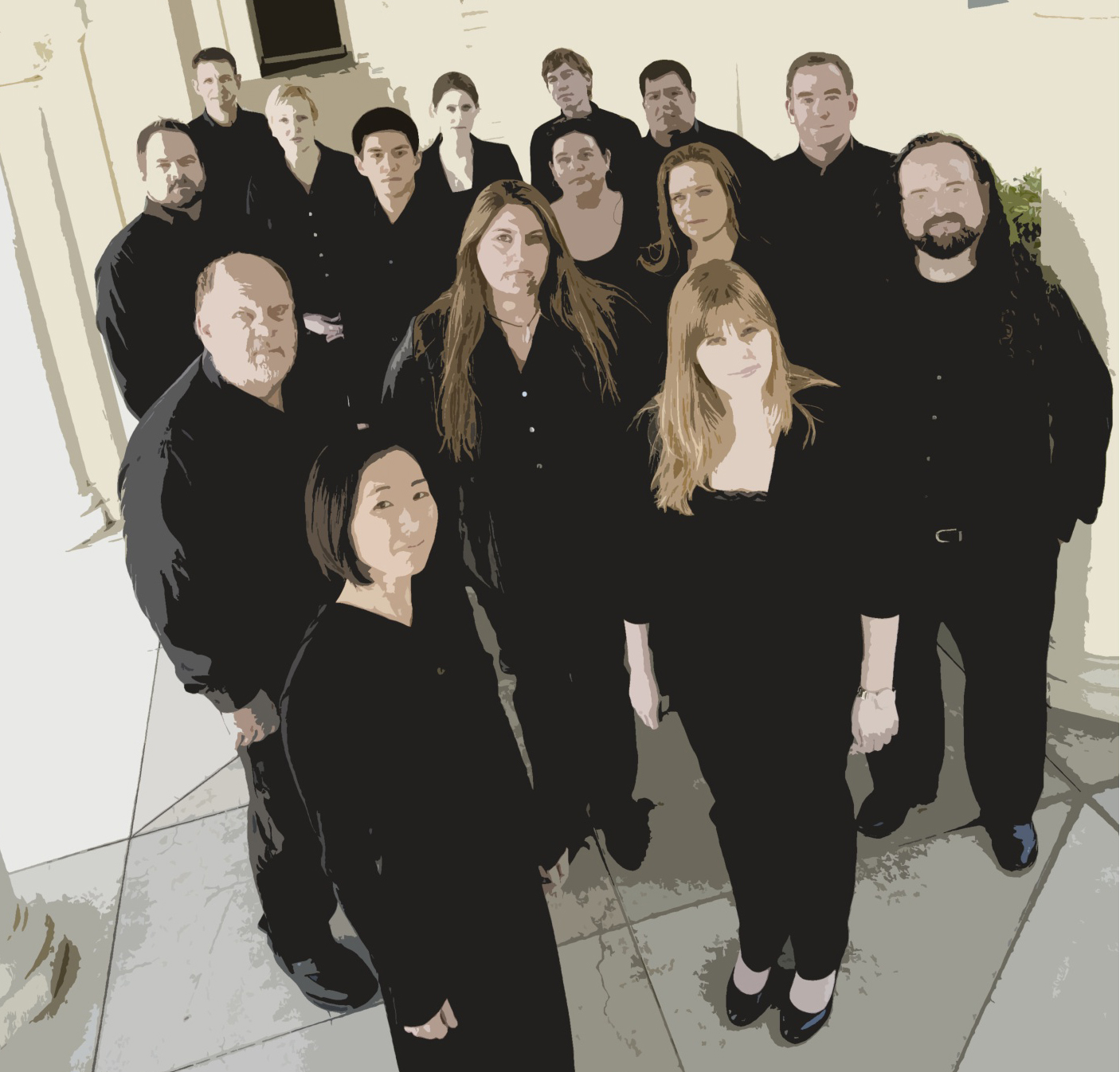 The Adelfos Ensemble was founded in 2004 as a men's a-cappella ensemble and pursued that path until 2010, when it became a mixed voice choral ensemble. Temmo Korisheli took over direction of the group from Dr. Michael Eglin in 2008. Our goal is to offer the best of a-cappella and other choral music to audiences in the Santa Barbara area through live performances, radio broadcasts, and recordings. The group programs a broad repertoire of music spanning more than a millennium, from ancient chant and Renaissance motets to folksong arrangements and contemporary works. Adelfos Ensemble exists to explore the wide world of choral literature and, as the Santa Barbara News-Press observed, to "move right and left of center in the choral tradition."
About the Director Temmo Korisheli is an active performer in many musical styles, especially medieval, Renaissance, and Baroque. Recent early-music engagements have included concerts with Ensemble Ciaramella in Los Angeles, Victoria, and New York, and with the Texas Early Music Project in Austin. He has been on staff with the Amherst Early Music Festival of New England for the past 22 years, where he has collaborated with many luminaries of the early-music world; he also serves as bursar of the Festival. Mr. Korisheli has appeared as soloist with ensembles such as the Los Angeles Baroque Orchestra, the New York Collegium under Andrew Parrott, and regional oratorio societies; as a guest artist with several university early music programs around the state and beyond; and sang for many years in the UCSB Cappella Cordina. He is a founding member of the UCSB Middle East Ensemble, sings frequently in the Opera Santa Barbara Chorus, and plays clawhammer banjo, and, this December, celebrates 20 seasons of spreading Christmas cheer with the Santa Barbara Holiday Carollers. Mr. Korisheli is assistant music director at All Saints'-by-the-Sea Episcopal Church in Montecito. He holds the MA and PhD (ABD) degrees in historical musicology from UCSB, where he studied with Alejandro Planchart and William Prizer and where he presently supervises the Music Library.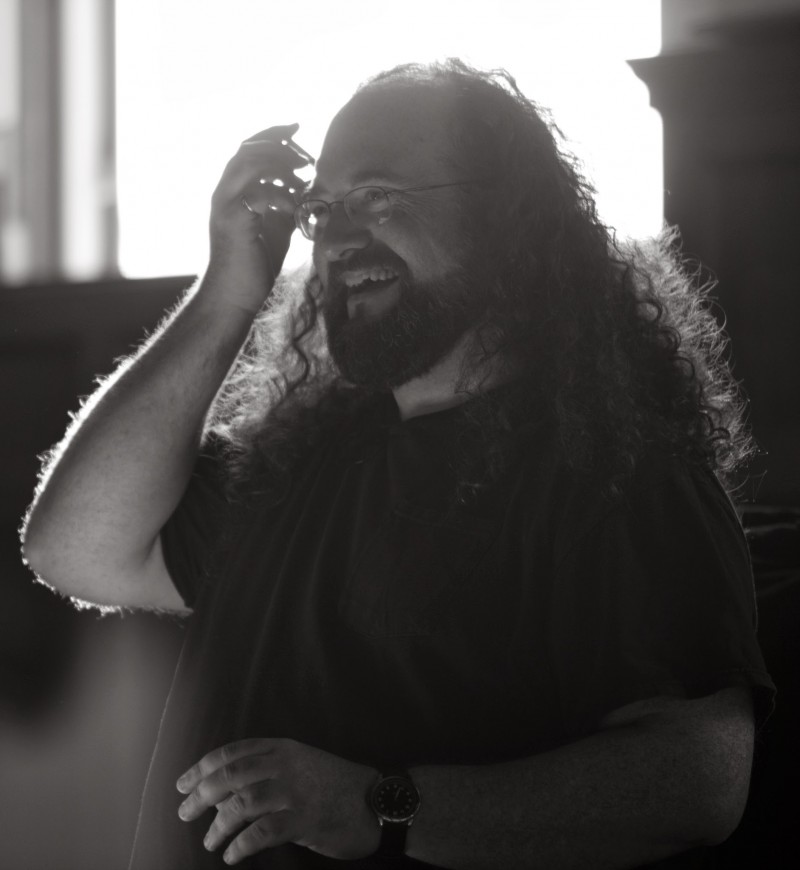 Sopranos Anna Coleman, Mary Dombek, Molly Giovanna Markstrum, Becky Hoffman, Christine Hollinger, Lee Naftali, Emma Parker
Altos Kristin Aylesworth, Holly Hoffman, Michaela Gomes, Kathy Kamath Mitchelson, Lauren Vanderlinden, Rochelle Yoshida
Tenors Ben Brown, Matt Evans, Andy Lentz, Matthew Moore, Temmo Korisheli
Basses Mark Carrillo, Jack Fischer, JC Gutierrez, Benjamin Hanson, Bob Lally, Danny Monarres, Michael Swift
We're a non-profit organization that relies solely on donations to sustain our ability to perform top quality music. Each singer is unpaid. We do it because we love sharing our passion for choral music with the community.
100% of your contributions go directly towards items such as music, accompanist, and venue costs.
All donations are tax deductible.  We appreciate your support!
Mailing Address: PO Box 92 ~ Santa Barbara CA 93102
Donate