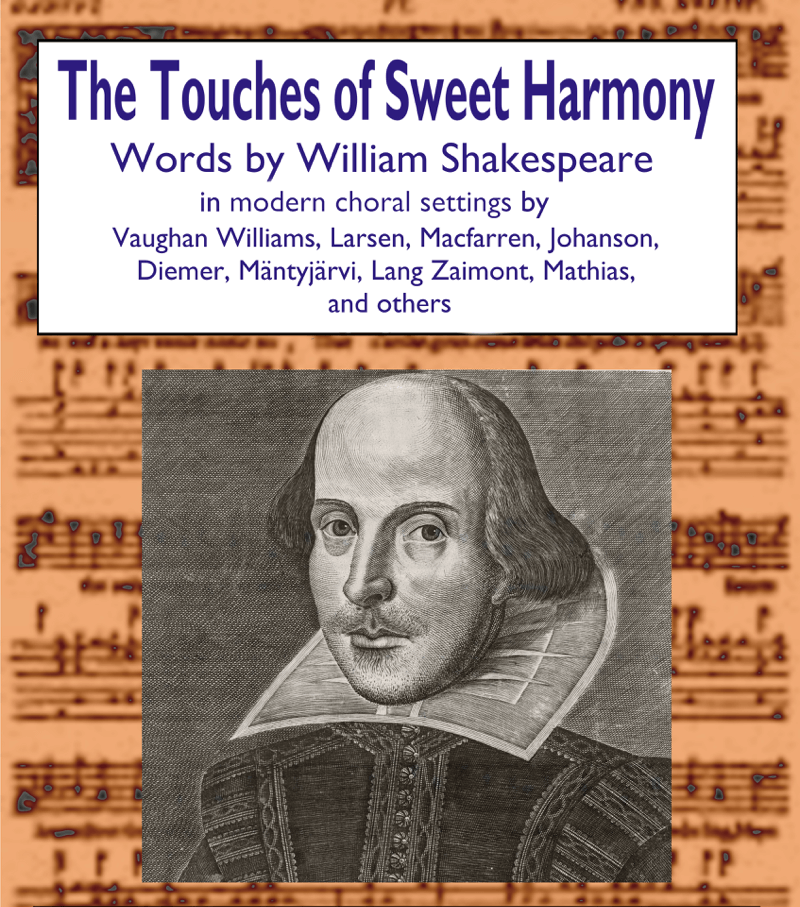 "If music be the food of love, SING on!" Shakespeare might have had Duke Orsino say in Twelfth Night, had he been thinking of the Adelfos Ensemble. We are delighted to round off our 10th season under the artistic direction of Temmo Korisheli this June with a program featuring mostly modern settings for chorus and occasional piano of the Bard's sonnets ("Shall I compare thee to a summer's day?") and plays: "O mistress mine, where are you roaming?" (A Midsummer Night's Dream), "Full fathom five thy father lies" (The Tempest), "Double, double toil and trouble" (Macbeth), "Sigh no more, ladies" (Much Ado About Nothing), and many others.
We will be presenting works from an array of composers, including Libby Larsen, Ralph Vaughan Williams, William Mathias, Emma Lou Diemer, George Macfarren, Sven Johanson, and Judith Lang Zaimont. The beautiful sanctuary of Trinity Episcopal Church in Santa Barbara (1500 State Street) will once again play host to our two performances, Saturday June 1 at 7:30 p.m. and Sunday June 2 at 3:00 p.m. The Sunday matinee will be followed by an end-of-year celebration on the Trinity Labyrinth.
Tickets are available here and also at the door starting 30 minutes before each concert. Tickets are $20 for general admission ($18 for online pre-sale) and $15 for students & seniors 65+ ($13 for online pre-sale).